A month after the first confirmed patient infected with COVID-19 in Misrata on March 25, the COVID-19 pandemic has not brought about waves of patients in respiratory distress in Libya's hospital wards. Neither did it provoke a sudden increase of mortality in the infamous detention centres still active across the country - where hundreds of migrants, asylum-seekers and refugees endure arbitrary and indefinite detention in dire living conditions. Calls for a ceasefire to allow for proper COVID-19 preparedness and response planning fell on the warring parties' deaf ears. On the contrary fighting intensified in and around Tripoli, with more indiscriminate shelling and deadly attacks on residential areas and health facilities.
Great caution is warranted in COVID-19 related forecasts in Libya. But essentially what I have seen so far, while managing Médecins Sans Frontières/Doctors Without Borders (MSF) operations in the country is that the pandemic– or the response to it, rather – has made the daily struggles of Libyan civilians worse and exacerbated the misery of migrants stranded in the country. Already juggling with security constraints caused by the escalating conflict, we had to scale down our operations as airports and borders closed, hampering our ability to receive medical supplies and experienced international staff, to renew the visa of those already here while we had to evacuate others at risk of developing severe forms of the disease.
Prior to the COVID-19 pandemic, the political constraints, security challenges and the paucity of international staff on the ground, mainly concentrated in Tripoli, meant that humanitarian programmes to assist and protect migrants in Libya, even when they were properly funded, already failed to deliver. Today's situation is worse and has also further exposed the flaws of the international aid agencies' response to the fate of those stranded in Libya.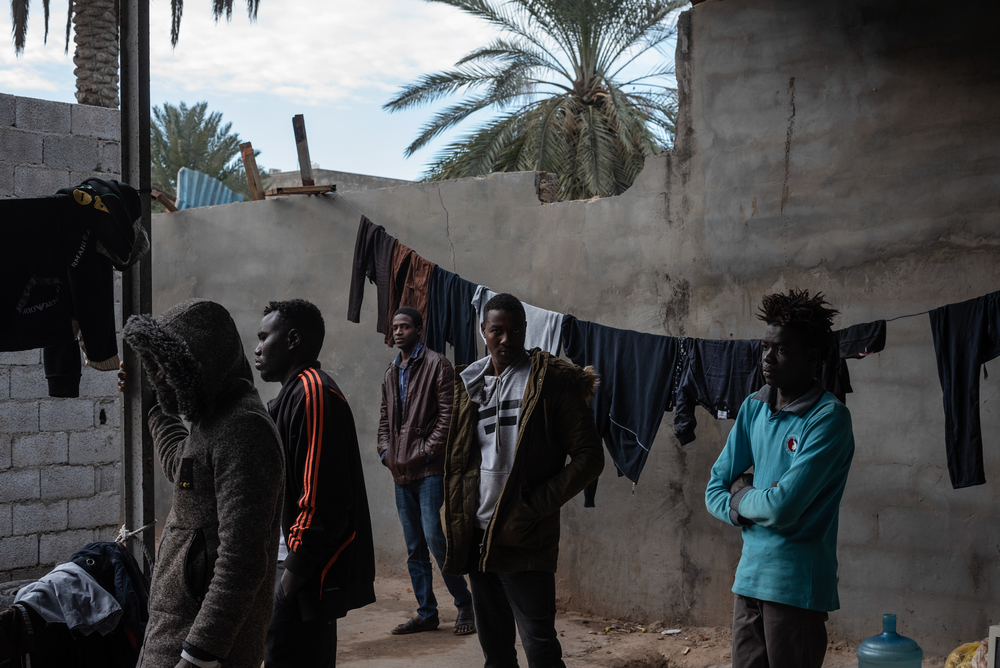 Refugees mostly from Darfur, Sudan gathered in the courtyard of the place where they live in Gorgi district, south of Tripoli. Migrants and refugees often live in dire conditions, in dilapidated buildings or small unfinished houses deprived of basic services. [© Giulio Piscitelli]
For some 1,500 people currently held in the detention centres nominally under the authority of the Libyan agency fighting illegal migration (DCIM), despair is reaching a new high. The halt of UNHCR evacuation flights and IOM repatriation services in the wake of COVID-19 related travel restrictions extinguish their only hope to find a way out of a cycle of abuses and violence in Libya. It is common knowledge that overcrowded detention facilities with poor sanitation and ventilation are prone to the spread of diseases – as shown with previous tuberculosis outbreaks. Where to isolate? How to access adequate and timely healthcare? Key questions, which the pandemic makes more pressing, have remained outstanding and at best addressed on a piecemeal basis.
In the weeks following the first cases of coronavirus in the country, the resulting price increase and shortage of basic food items combined with curfews caused mounting concerns over food provision in the detention centres where we provide medical and psychosocial assistance. Despite this recent deterioration, the food security sector led by the UN Food Agency, WFP, has so far decided not to intervene with direct food aid in detention centres as doing so would reportedly infringe its opposition to arbitrary detention.
This encapsulates a general trend among international humanitarian actors who have adopted a very principled approach to detention. While we cannot condone the arbitrary and dire detention of migrants and refugees in Libya, we also have to acknowledge that efforts to implement alternatives are going nowhere. Now more than ever is not the time to abandon people held in Libya's detention centres to their fate. Since more than three years, we have seen how important it is to ensure a physical, regular presence in the detention centres not only to improve the living conditions and conduct medical consultations but to reach out to the men, women and children locked up with no end in sight, advocate on their behalf and expose the inhumanity of their situation.
Yet, most migrants and refugees in Libya are not held in DCIM detention centres. The vast majority of them, including those released or who made their way out from detention centres in recent months, live in the main Libyan cities. They are exposed to threats of arbitrary arrest and detention, robbery, kidnapping, abuses and worse. While the early setup of preventive measures such as curfews, lockdowns and closure of borders have likely contributed in containing the spread of COVID-19 in Libya, it has further disrupted an already fragile economy. But above all, it has significantly eroded opportunities for migrants to get access to daily work and other income-generating activities. Combined with the rise in food prices, as Libya imports the vast majority of its food products, and other essential goods such as hygiene products, this is leading to desperate situations: MSF teams receive an unprecedented number of calls from migrants, often former patients in detention centres, now left without food and unable to pay their rent in Tripoli. The current restrictions on movements further fuel their fears of being arrested, ransomed or kidnapped if they were to go outside.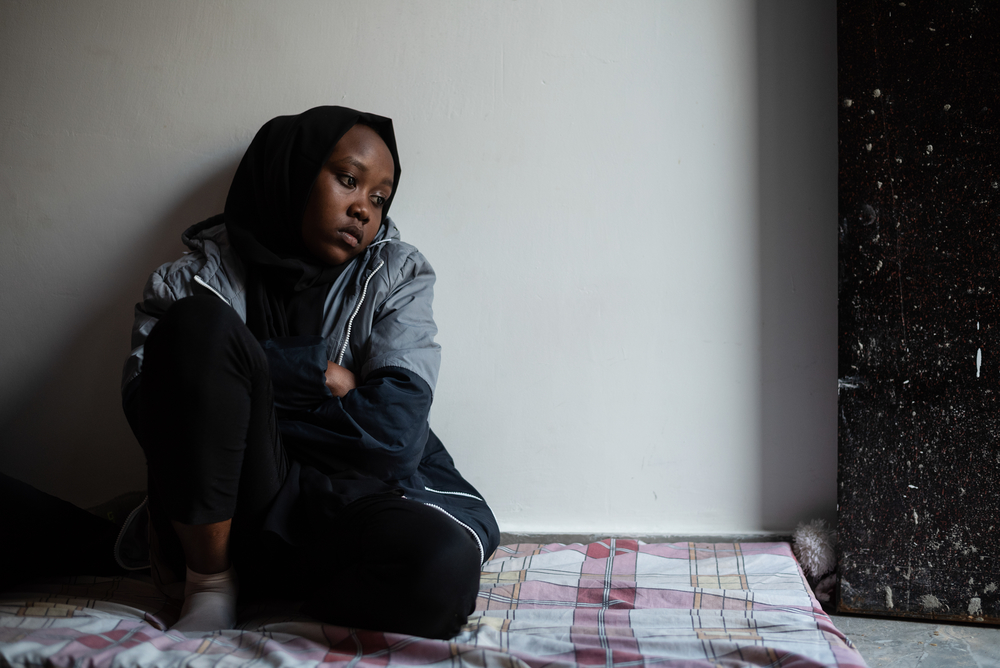 13 year-old Laia, a refugee from Darfur Sudan, sits on a mattress on the floor of their precarious accommodation in the area of Gargaresh, in the outskirts of Tripoli. Laia lives with her mother and sister in a small unfurnished house. The three have lived in Libya since 2018 after they fled war in their home country. They say once they arrived in Libya they were detained in a clandestine place of detention until a ransom was paid to their captors by friends. They say the facility was run by militia men linked to traffickers. At the moment, they  survive thanks to the economical help of some friends. Their mother Mrs Awaia   lives  in constant fear for her own safety and in particular for the safety of her daughters who she says are at risk to be kidnapped, raped and tortured for ransom.   [  © Giulio Piscitelli]
Support provided by international aid agencies to migrants and refugees in urban settings outside of detention centres mainly consists in a one-off relief package, including cash assistance, and ad-hoc distributions that are subject to cancellation due to security and access challenges in a city at war. Partly designed to compensate the closure of UNHCR flagship Gathering and Departure Facility in Tripoli (last January) and to accompany refugees and migrants released from detention centres, the urban setting approach trumpeted by UN agencies has never been adequate in the absence of meaningful protection and shelter services. It relies on the support of migrant communities who are already struggling to survive.
Migrants and refugees are pushed underground, out of sight and out of reach. Most initiatives to set up shelters supervised by international organisations, for instance in Janzour, have so far been unsuccessful as negotiations between humanitarian actors and the Libyan authorities dragged on with no tangible outcome. Such places where vulnerable migrants and refugees could find a minimum level of safety and decent living conditions while seeking more durable solutions, like evacuations, are more needed than ever. In fact, although limited, the evacuations organised by the UNHCR were the only effective protection measure benefiting a fraction of the stranded refugees. They are left with no other alternative to flee than dangerous sea crossings.
Just as ambulances continue to carry the sick and injured to emergency rooms despite public health lockdown policies, and just as essential services are maintained, so should evacuation flights from Libya continue to operate as an emergency lifeline. Upon arrival to safe third countries, preventive measures like quarantine can be applied to prevent contributing to the spread of the COVID-19. But prior and during this pandemic, when it comes to negotiating on concrete steps to help and protect migrants and refugees, the sentence I have probably heard the most coming from diplomats and UN representatives alike has been that "There is very little [they] can do, [they] have no leverage" – despite the EU mobilising over €500 million for migration related projects in Libya since end of 2015, largely channelled through UN agencies, in lines with years of policies aiming at keeping unwanted migrants and refugees away from Europe at any cost.
The situation requires a radical change, which at the very least, means making the protection of migrants and refugees trapped in Libya an international priority. COVID-19 is a real and actual threat, but the response can't be worse than the disease. This is particularly true for stranded migrants, further exposed to violence in the new context created by the pandemic and with even fewer solutions to flee. The issue needs to become a real topic of negotiations to unlock the deadly stalemate, notably by restarting and scaling up humanitarian evacuation mechanisms.