As concerns grow about the spread of COVID-19 in Chad, parts of the country remain gripped by a two-year measles epidemic that is increasing in intensity and shows no signs of slowing down, leaving the country at risk of a twin crisis.
Officially declared in May 2018, 118 out of 126 health districts in Chad have now been affected by measles with southern provinces near the border with Central African Republic facing a rapid increase in cases.
Some 28 health districts are in a declared measles epidemic and during the first three months of 2020, the Ministry of Public Health reported 7,412 suspected cases, with the highest number of registered cases in Beboto, Kyabe and Goundi health districts.
Mass vaccination campaigns
A Médecins Sans Frontières (MSF) emergency response team travelled to affected regions including Beboto in February, after the Ministry of Public Health alerted MSF that measles cases in the district had doubled in a matter of weeks.
There, the team vaccinated 25,177 children aged between six months and nine years against measles. In response to the high rates of malnutrition in the region that have weakened immune systems and contributed to the spread of the virus, 10,432 children were also screened and 1,191 treated for severe acute malnutrition. MSF Nurse Supervisor Ngueremi Yary Roger says that upon arriving in the district, the team found that some families reported having had three or four children recently pass away from the disease. Patients were either staying home or using traditional medicines instead of trying to access local health facilities.
The MSF team in Beboto also worked closely with community leaders to raise awareness about measles prevention and how suspected measles patients could access free medical treatment in MSF supported health facilities. MSF donated medical kits, measles vaccines, and water and sanitation supplies to the health district to enable case management by local teams under the supervision of Beboto health district authorities.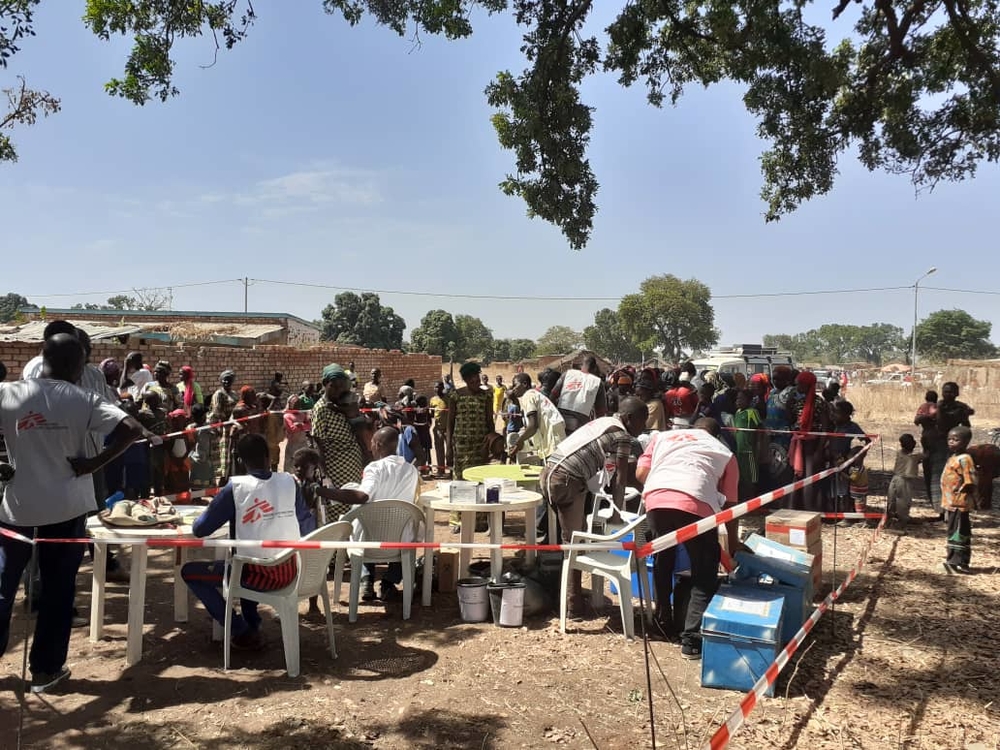 From 3 February to 12 April, MSF also carried out a vaccination campaign in the Kyabé region of southern Chad, targeting children between six months and five years old. Because of the many cases of malaria and malnutrition, MSF also provided general paediatric care and treated the children with measles in addition to vaccination activities. "One of the specific features of Kyabé district is that it is located in a rural cross-border area with a population that is quite dispersed and includes nomadic cattle herders," explains Moha Zemrag, MSF project coordinator. "It was necessary to do a lot of information and communication work to be able to find them, to know in which ferricks [temporary camps for nomadic herders] and in which areas they were settled, in order to be able to vaccinate their children". More than 60,000 children were vaccinated in Kyabé last month by MSF teams.
Pushing for 95% vaccination coverage
Since the beginning of the outbreak in 2018, MSF has been pushing for 95% of children across the country to be vaccinated, in order to achieve 'herd immunity' but Chad is far from reaching this goal.
UNICEF estimates measles immunization coverage in Chad to be only 37% and there has not been a national vaccination campaign since 2015, leaving children under five years old at high risk of infection and death.
Chad's extreme climate with temperatures sometimes exceeding 50 degrees Celsius means ensuring the vaccines are refrigerated is highly challenging. Furthermore, local hospitals often lack the human resources capacity and supplies to treat severe measles cases.
Impact of COVID-19
Since the first COVID-19 case in Chad was confirmed on 19 March, the majority of humanitarian actors and donors have shifted their attention towards COVID-19 prevention activities.
A measles vaccination campaign by the Ministry of Public Health and supported by UNICEF and GAVI (a vaccine alliance founded by Bill and Melinda Gates) is planned for this year but fears of a large COVID-19 outbreak may threaten that.
"Despite the fact that COVID-19 is the emergency situation attracting the full attention of the country and donors, the response to the measles epidemic remains our main priority," says MSF Head of Mission Seidina Ousseini. "We must focus and push for a mass vaccination campaign. Chad has been facing an economic crisis since 2015 and the government simply does not have the capacity or funds to respond to COVID-19 and measles at the same time. It is important to remember that while donor funding continues to be diverted towards COVID-19 activities, we must continue to do what we can to help Chad fight measles and ensure other health services aren't neglected to avoid a catastrophic situation where all these issues merge into one even bigger problem," he added.
Vaccinating children at home, following a "door-to-door" strategy, could be considered in order to help limit gatherings and ensure vaccination campaign do not contribute to the spread of the COVID-19 virus. Gatherings of less than 50 people are possible, provided queues respect physical spacing measures and that everyone, patients, family members, and of course health workers, can receive personal protective equipment. MSF has just launched a cloth mask manufacturing activity in N'Djamena, but still lacks personal protective equipment adapted to healthcare personnel, as is the case almost everywhere in the world. Combined with the difficulty of bringing international staff into the country, this is the great challenge of the moment, but MSF emergency teams will continue to assist communities fighting the potentially life-threatening disease.
---
Chad is one of the largest refugee host countries in the world, hosting refugees fleeing conflicts in neighboring Sudan, Central African Republic, Libya, and Nigeria. MSF has been working in Chad for more than 37 years. Its Chad Emergency Response Unit (CERU) provides a rapid medical response to epidemic emergencies, providing free quality treatment and carrying out emergency vaccination campaigns. MSF also runs medical activities in Moissala in Mandoul region.